Celebrity Fashion Hit or Miss: Best and Worst dressed Celebrities at Tiwa weds Tunji.
Tiwa Savage and Tunji "Tbillz" Balogun tied the knot traditionally yesterday November 23 and it was quite the colorful event. Yours truly was there and I have to admit, I had a lot of fun watching our celebrities strut their stuff. A lot of selfies were going down, a lot of group shots and a lot of checking out outfits. When celebrities step out to an event as big as this we all want to see what they wore. Its even more fun when they are given the same  fabric and given the opportunity to get creative. Below I am going to talk about who I felt were the fashion hits (People that looked good) and the fashion miss (People that needed to go back to the drawing board). I selected pictures that are already in circulation to make it easier and of course I saw some in person so I know if it was just the picture or they looked that way live. Lets get to it. – Miss Fatimah 
THE HITS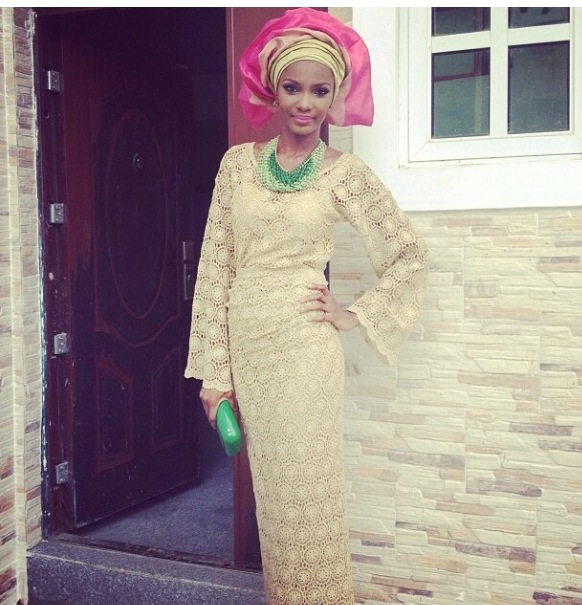 Agbani oh Agbani why for art thou so beautiful. The combination of pink and gold with a touch of green is simply gorgeous.  Agbani wins best look for the ladies. She is a definite HIT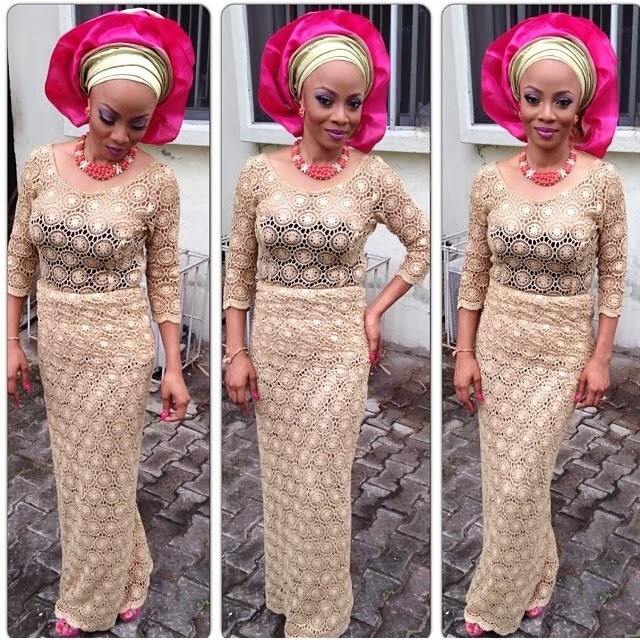 Toke seems to have a style team readily available when she wants to step out because she is seldom caught off guard. Her look is almost flawless from the makeup to the careful way her Headtie was crafted to the simplicity of her attire.  I love the hint of coral, making Toke a definite HIT.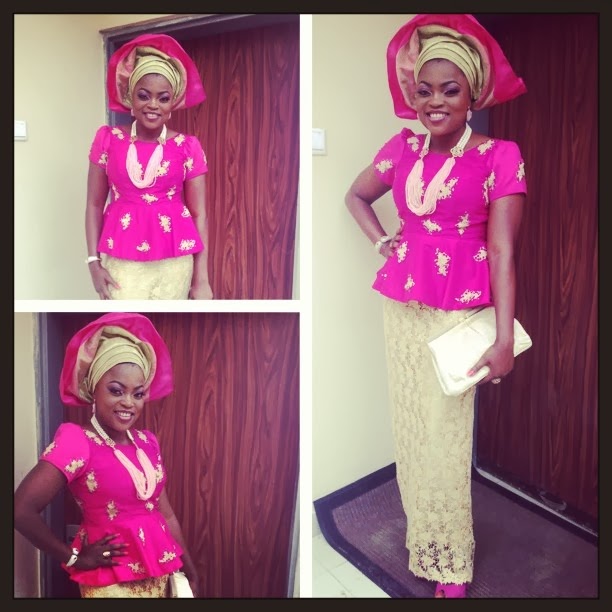 Funke Akindele opted to do something different and I absolutely love it. The hot pink peplum with a boat neckline is a fantastic combination for her body type. Gives her curves while still keeping it classy. I love her beaded drop nacklace and the neutral color she opted for. Looking like an Aso-Ebi Barbie, Funke is a definite HIT.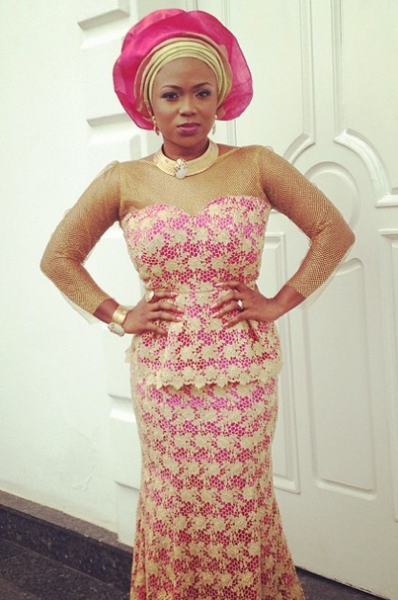 One word to describe this picture? Classy. Her head tie was the smallest that I saw and it was simply perfect. The necklace is a great addition to the lace finish on her top. Without the necklace, the lace may have looked off or ordinary, but she saved the look with that little addition so I say Lami is an Aso-Ebi HIT
THE "MISS"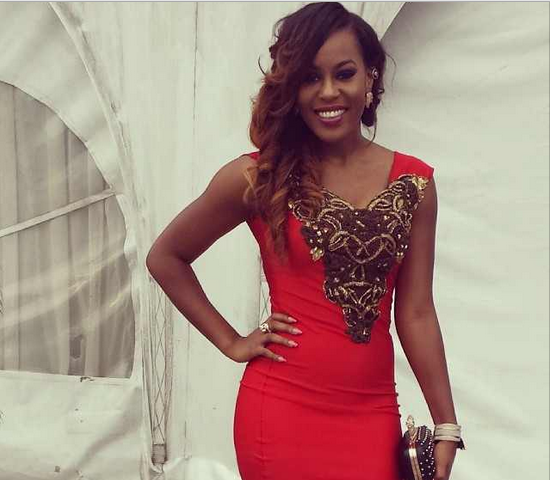 When I saw this look, I  hurriedly went back to check the wedding invite to see if I missed something. What was I lookin for you ask? I was looking for the note that says "After Party at Caliente". We know Emmy Nyra likes to look sexy, but this look is more club appropriate than wedding appropriate so ill have to ask her to step aside because this is a MISS.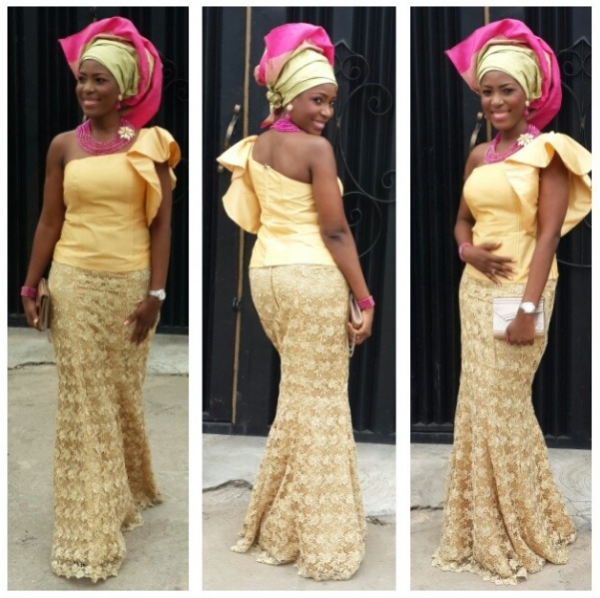 This look makes me wanna say, "who is this lady and why didn't someone tell her the correct way to tie a Headtie?" If I did not see other peoples head ties, I would have sworn the material for the  head tie was questionable but alas, the problem here is not the head tie but the head tie-ee and what's up with the flappy 0ne arm "thingy" so 1999.  Although I like that she is environment friendly and her skirt was designed to keep lagos clean, it is still a MISS for me. Next Please!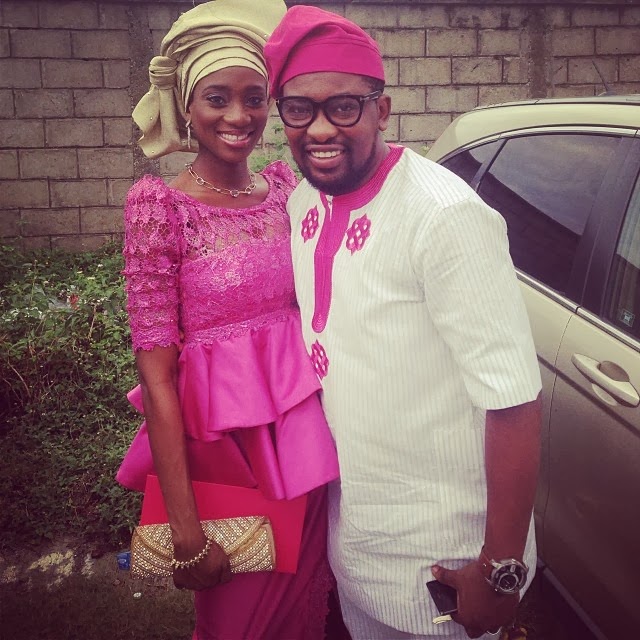 When your husband lets you come out like this, please make sure he spends the next two weeks sleeping on the couch. Dotun Cool FM's wife, Taiwo is another Head Tie Miss.  I know a lot do not understand the importance of having your head tie look  great. Its like the perfect finish to any aso-ebi if you choose to wear one. That head tie is screaming Khona! Khona! Khona! Tie me properly! Khona! Someone should spank Dotun for allowing his wife come out like this. Pretty Woman. Bad head tie makes this a MISS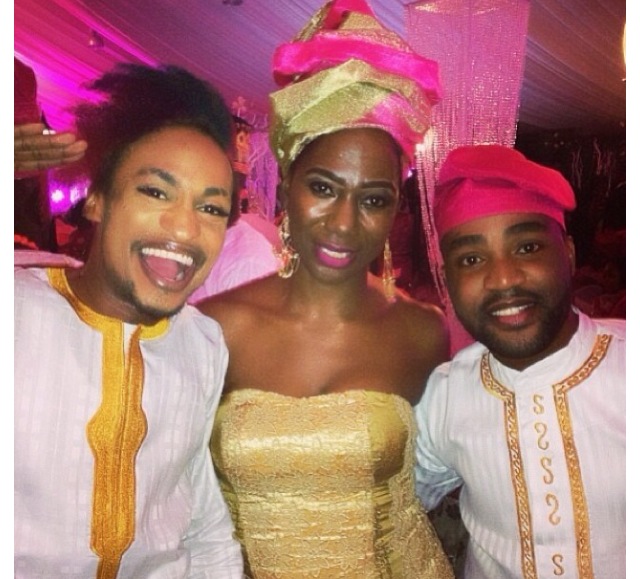 All I want to know is,  who did this to Denrele? *Brings out Koboko*. Let me at em, Let me at em. Denrele has an awesome personality but that makeup is a huge MISS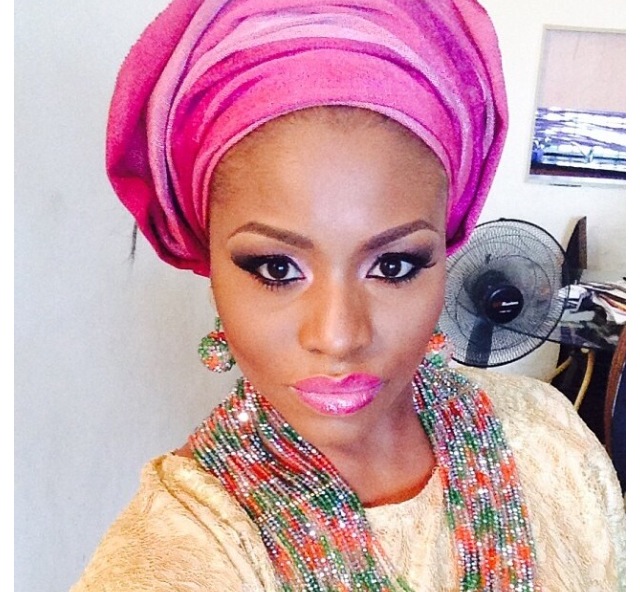 Step 1: When attempting to take a selfie that you will post online for people to see, please make sure your background is decent.  I was trying hard to see Liz but all I could see was the mess of a background the picture was taken in. We don't need ray bans to know that Liz is a pretty woman and her makeup looks great. What make her a MISS however is not the background but the color combination necklace. She should have kept it simple. It is just too much going on, on one outfit and that is a headshot. I may need a glass to henny to absorb the full picture. Beautiful, you are a MISS.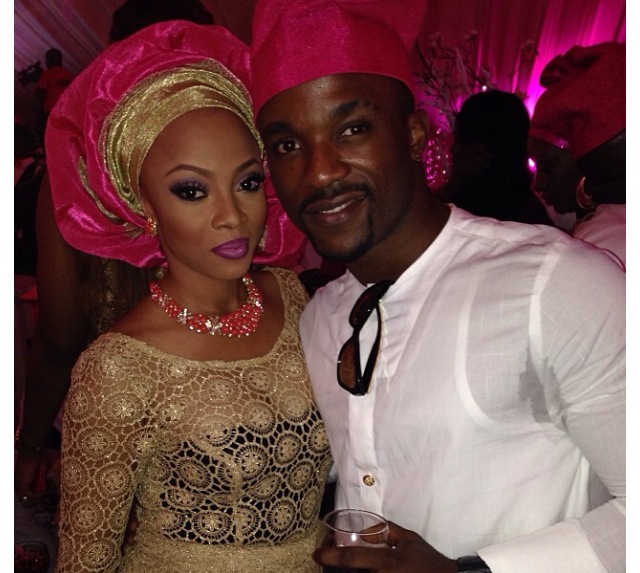 Word on the streets is that Iyanya has a lot of money so I find it hard to believe he can't afford a decent deodorant. When my Editor brought this to our attention, what he failed to mention was that the sweat stain has a tint of yella, I mean yellow, I mean ewww!.  Iyanya when you buy that next car make sure it comes with a lifetime supply of  Sure deodorant so you are "sure" this wont happen again. Iyanya and his sweat stained self are a big MISS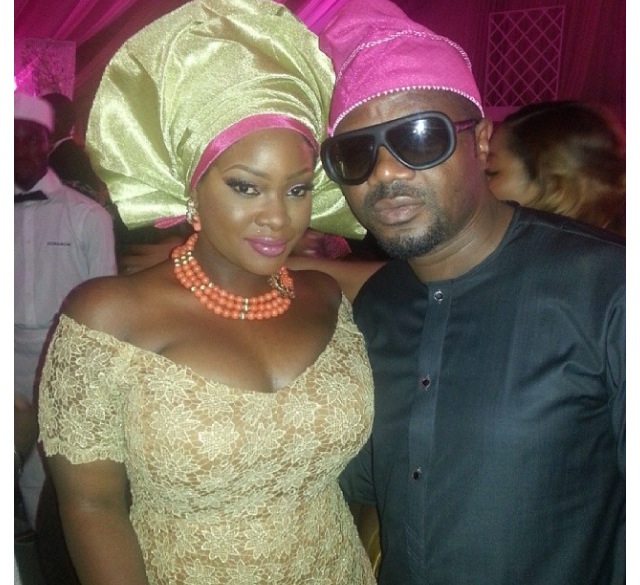 We love Beat FM OAP Toolz and the fact that she has perfected the art of sucking in her tummy to take pictures, but that is not why we are here.  What jumped Toolz to the MISS category was the shade of coral she opted for with her necklace.  There is something about that shade that doesn't sit well with the pink trimming on the head tie. It just screams, this is what I have and I'm wearing it like that. I would have  preferred a shade similar to Toke's coral necklace. This little factor makes the lovely bootylicious Toolz a MISS
That's it for now till the next big event. I am Miss Fatima reporting for Entertaining Africa.
Who are your hits and misses?