President Obama and 59 heads of state to Attend Nelson Mandela's Memorial Today + Burial Set for Sunday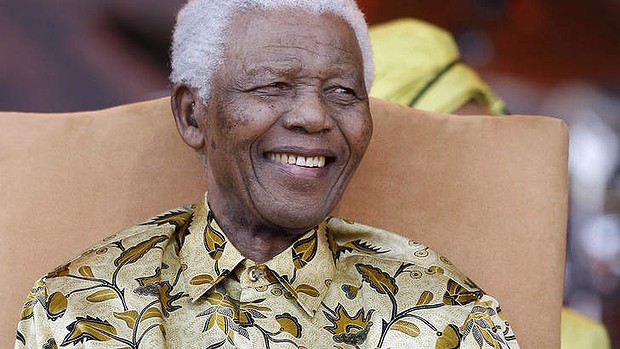 125,000 seating capacity, world leaders, and many people who wish to celebrate the Iconic Former President of South Africa, Nelson Mandela are some of the things we expect to see today at the memorial service which will hold at the South African FNB Stadium.
High-level security measures has been put in place.
USA Today Reports
JOHANNESBURG, South Africa — Police and the government were bracing Monday for a massive crush of mourners at a soccer stadium who will be met with high-level security measures for the heads of state attending the memorial service for Nelson Mandela.
South Africa is initiating what the government described as its tightest security plan ever at FNB Stadium, where President Obama, his wife Michelle and numerous other world dignitaries will be present Tuesday for the memorial service.
"What we can say is … all the events and those who attend them are safe," Collins Chabane, minister for Performance Monitoring and Evaluation, told The Times, a local South African newspaper.
Military, police and intelligence services have all been activated, and free bus service is being made available to the hundreds of thousands of people expected to attend what may be the largest memorial service in decades.
FNB Stadium, named for a South African bank, seats 94,000 people but "overflow stadiums" have already been established because of the anticipated crowds arriving on a first-come, first-serve basis. The stadiums hold a total of about 125,000 people. Military helicopters and police armored vehicles will be positioned throughout the Gauteng province of Johannesburg.
The government said 59 heads of state confirmed their attendance at the service. South Africans expressed pride in the respect accorded Mandela, the former president who served 27 years in prison fighting a system of white rule that has since been abolished. He died Thursday at his home at age 95.
Mandela lived "so magnificent a life that it cannot be held in a grave," the Rev. Mzwandile Molo of the Bethesda Methodist Church told The Times.
Mandela made his last public appearance at the same stadium at which he will be memorialized. He was there for the closing ceremony of the 2010 World Cup, when the venue was called Soccer City.
Following the Tuesday service will be a three-day event in which Mandela's body will lie in state at the government house in Pretoria. The Johannesburg police said they expected tends of thousands of people waiting in long lines to get a last look at the man they call Madiba, the name of his clan, or Tata, which means "father."
Billboards put up by his political party, the African National Congress, could be seen throughout Johannesburg, where Mandela died from a lung infection in his home surrounded by family.
On Sunday he is to be buried in his home village of Qunu, which is in the eastern part of the country and closer to the ocean. Security there has also been increasing.
The Mthatha airport in the Eastern Cape will only be used for the landing of heads of state, jamming up more distant airports where throngs of people and journalists were arriving, according to News24.
"VIPs attending the funeral will be driven by luxury coaches to Qunu to avoid a stampede," provincial premier Noxolo Kiviet told the news agency.
She said the banking, retail and hospitality sectors were also ready for the increased numbers but asked locals to assist where they could. The Eastern Cape has a significant number of Afrikaners, or descendants of the Dutch colonialists who ruled this country until the early 1990s, and people of mixed race.
"As people of the Eastern Cape, we loved him so much — we would have been easily tempted to have jealously claimed him as our own, but we recognized that his towering stature as a symbol of freedom and peace transcended the rural boundaries of Qunu, his birth place, into the world for the benefit of all human kind," Kiviet said.
Several armored vehicles were parked outside Mandela's former home. Police on horseback patrolled the streets in the village, and crews worked to fill potholes.