Undisputed Truth : I was arrested 38 times before the age of 12 – Mike Tyson
Mike Tyson talks about new book Undisputed Truth
opens up about being arrested 38 times before the age 12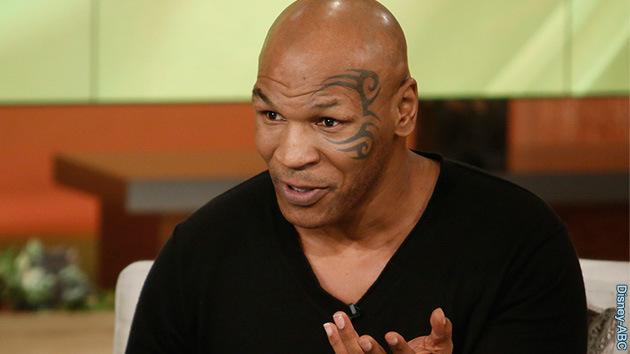 Boxing Legend Mike Tyson has had his fair share of troubles. From a rape case, to biting off Holyfield's ear, and being on the wrong side of the news, it is safe to say he has had as much downs as he has ups.
On a recent visit to Katie Couric, the former heavy weight champion talked about his new book titled "Undisputed Truth" and the stage play on Broadway that accompanied it. The stage play was directed by renowned director, Spike Lee.

During the interview, Katie brought up a recent interview Tyson did with Sports Journalist, Bernard Goldberg, where he broke down when the topic of his daughter came up. If you can recall, in 2009, Tyson lost his 4 year old daughter  Exodus  in a freak treadmill accident,  and for him it is a no go discussion zone as he still has a hard time talking about it. He however opened up that he had turned to cocaine for a week after the incident.
A troubled child, 47-year old Tyson had been arrested 38 times before he was 12-years-old.  He however did not let that stop him. He found a mentor in the late Boxing Manager, Constantino "Cus" D'Amato, who passed away in 1985, 8 months before Tyson's first championship.
Tyson is at a good place in life right now and he said he does not let his past demons control his life anymore. He also stated that he doesn't know how tomorrow will be but he anticipates greatness and he is grateful because he is currently living a stable life.
One person that had influenced him greatly in recent times is the late Hollywood Icon, Judy Garland.  Tyson said he read a lot about her and felt she was someone like him who gave great performances regardless of her social woes.  In respect to how he handles his stage play, he said it is much easier to play Mike Tyson than to be Mike Tyson.
Photo Credit: @Miketyson on twitter / ABC-Disney