Singer Chris Brown Ordered to do 90 days of Rehab by Los Angeles Judge
Singer Chris Brown has to complete 90 days in rehab for substance abuse and anger management says a Los Angeles judge. The troubled singer did a few days in rehab after the assault recently and was said to have left under dodgy reasons. We really do hope he gets better. Read the full story below.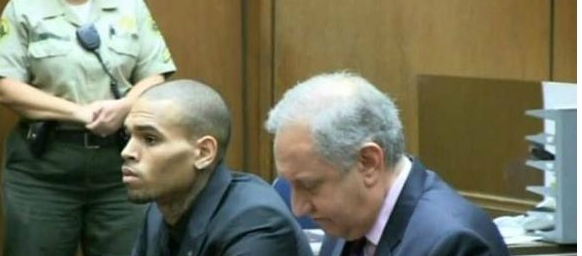 Culled from Reuters.com
(Reuters) – A Los Angeles judge on Wednesday ordered R&B singer Chris Brown to complete a 90-day substance abuse and anger management program, capping a probation hearing that followed the Grammy winner's assault charge in Washington, D.C., last month.
The judge also requested more information about the arrest to determine whether the 24-year-old singer had violated the terms of his probation.
Brown was placed on five years' probation as part of his 2009 sentence for assaulting fellow R&B singer and girlfriend Rihanna. He also was ordered then to perform 180 days of community service and undergo domestic violence counseling.
In addition to the latest order for rehab, Brown will have to serve at least 24 hours of community service a week, submit to periodic drug testing and take prescribed medication, Los Angeles Superior Court Judge James Brandlin ordered.
The singer responded "yes" when the judge asked if he accepted the modified terms of probation.
While Brown is to remain in Los Angeles County, the judge said the performer would be allowed to travel to Washington for court dates related to the assault charge, the next of which is set for Monday.
Brown pleaded not guilty in October to misdemeanor assault stemming from an incident in which police said both he and his bodyguard both punched a man in the face outside a Washington hotel, where Brown had a nightclub appearance.
The singer served a voluntary two-week stay in a rehabilitation facility for anger management after his arrest.
Brown has had several highly publicized altercations in recent years, including a brawl between his entourage and that of rapper Drake at a New York night club and a parking lot fracas with R&B singer Frank Ocean in January in West Hollywood.
Brown's probation was revoked in May in relation to a hit-and-run traffic accident. It was reinstated in August after he agreed to complete 1,000 additional hours of community service.
In February, he was accused by the Los Angeles County District Attorney's office of cutting corners in this community service sentence, which he was allowed to complete in his home state of Virginia.
Prosecutors alleged that Brown was not at the recorded location of his community service but was instead performing or traveling, once on a private jet bound for Cancun, Mexico.
Judge Brandlin set the next probation hearing for December 16.
(Reporting by Eric Kelsey and Mary Milliken; Editing by Steve Gorman)