First Lady Michelle Obama talks about her Collaboration with Beyonce, Importance of Education and Obama
America's first lady Michelle Obama visited 106 and Park  today looking causally chic. She came to talk about President Obama's North Star goal and the importance of Education. She made a nice entrance strutting out to the song "Move your Body" by Beyoncé which was used in the First Lady's "Let's Move!" campaign, which seeks to curb childhood obesity. She kicked off the interview with shout out to Beyoncé and talked about their Lets Move flash mob campaign encouraging kids to stay healthy.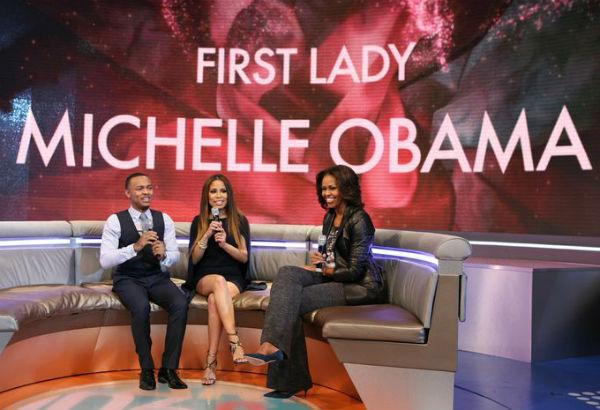 In her usual carefree self, she cracked jokes,  talked about how she designed her senior prom dress and talked about her kids being excited that she was coming on 106 and park.  More importantly, she discussed with the audience the importance of an education. When pictures of her in her youth were flashed, she talked about how she was afraid, how she sometimes felt she wasn't smart enough and was always worried about failure.
She gave a lot of words of encouragement to young ones who may not be so confident about themselves at the moment. She stressed about the importance of staying in school, and knowing what you want Her goal to make America the smartest country in the world by 2020  Education is the thing you should be focused on right now, it is the best investment you can give yourself. She ended the show with a series of questions one of which was, who was a better dance between her and President Obama, and her answer was HER!. We absolutely love this lady.
In other unserious news, did anyone else notice how SHORT Bow wow was compared to the First Lady.  They should have kept him sitting down. She was like almost double his height. Wowser!
Watch the video of  Michelle Obama Dance to Beyoncé's Move your Body Below.