Celebrity Guests did NOT refuse to attend Kim Kardashian and Kanye West Wedding
Star Magazine is back again with another false story and this time its that celebrity guests are RSVP'ing "No" to the Kim Kardashian and Kanye West wedding taking place this Spring.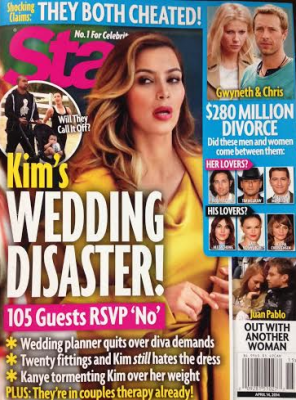 The magazine claims Kardashian is "on the verge of a meltdown" over the pair's nuptials, quoting an alleged "insider" as saying, "She's really not emotionally or physically ready for a wedding. And the whole circus surrounding it is taking a huge toll on her."
Well, according to our sources, nothing could be further from the truth. Obviously the entire Hollywood cant be at the wedding and those that are getting invited will obviously do their best to be there.
We wish Kim and Kanye all the best with their up coming nuptials.