10 Things You Didn't Know about Nigerian Singer, Song Writer BEZ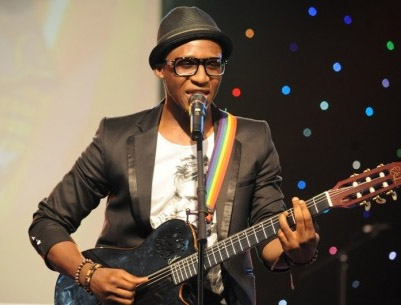 We know he is a fantastic singer, we a know he sang "that stupid song", we know he has featured another awesome singer Praiz but are there things we do not know about Nigerian Singer BEZ?  Check out a list of 10 things you may not know about BEZ
10 Things you didn't know about Bez Idakula
1. When he was little, he had no video games or even swings, so his dad's guitar replaced the video games, and him and his sister would tie the drapes together and use them as swings. Tree climbing was also a great sport. Of course there were always a few lashes after the drapes fell.
2. His first ever girlfriend in his life was in pre-primary 2. Her name was Morenike, they had flirting sessions in class, peek a boo style, did romantic things like sand eating and racing. She always beat him in racing because he was quite healthy ( fat ).
3. He was a local champion in Secondary School. He was in the choir, the soccer team, always had the best javelin throws, made 12 straight As in his jssce and became head boy the next year. (first set sturves)
4. He lost his dad in 1997 and that changed his life forever. It was the start of experiencing true miracles. His tuition was sorted for the rest of his schooling by an anonymous person. That made him mature 5 times over.
5. He has random topics of interests, from philosophy, human psychology, business, marketing, astrology, stamp collection ( He has over 1000 thousand stamps he has collected of different countries)
6. When he was in grade 5, he thought glasses were cool, so he urged for a test and found he was actually short sighted. He didn't wear them constantly till he got to jss2. That explains the " funky " glasses he wears now, he can't do anything about it, sorry.
7. When he cooks indomie, it has to look like the one on the pack, always fully garnished. Sometimes it may be over garnished with sausages (they should come take a picture when they're rebranding 🙂 )
8. One of the major criteria for the Bez woman is that she has to be ENDOWED in the kitchen department, proper culinary skills o! Not talking of kitchen floor moves, heh heh
9. He thrives in solitude, when he is alone, he can think, practice, read, plan, dream, sleep, without being disturbed… At the same time he loves hanging with friends, having drinks, enjoying shows, games, movies and good company.
10. He can never explain his success or even talent, this just goes to show, honestly, that he is a product of divine favor and blessings. He is spiritual and he believes in this with his entire being, and he believes that continues to expand the horizon of his life and career.
Now that was quite interesting. Is there any Entertainer you would like to know 10 things about? Let us know. In the mean time watch Bez's latest music video titled "SAY" Enjoy